Amenities
At The Atrium at Serenity Pointe, we have created a comfortable and homelike neighborhood with everything you need at your fingertips!
Every amenity afforded the assisted living residents is extended to independent residents, including 24-hour gated security, state-of-the-art gym, movie theater, physician's office, fine dining, and housekeeping and linen service.
The Atrium at Serenity Pointe is once again giving the senior population unmatched options for enjoying retirement. Imagine living the life you choose, in your own Serenity Pointe cottage home, with complete service available at your whim. The Atrium Difference… you owe it to yourself.
Elegantly decorated interiors furnished with rich character make The Atrium a reflection of home. You will enjoy premium services and the highest standards of hospitality. Take advantage of our four fabulous dining areas, fitness center, movie theater, beauty salon and barber shop.
We are always at your service – making your life as comfortable and carefree as possible. From the inviting formal dining room to state-of-the-art movie theater, indoor salt water swimming pool and relaxing spa, The Atrium provides the ultimate in resort-style living for active seniors at a price that is surprisingly affordable.
We have a great community that works together to cater to you!
We want you to be at ease here at The Atrium at Serenity Pointe. That's why we offer a myriad of services and amenities to give you not only the best comforts of home, but complete peace of mind, knowing that you have the highest levels of senior care at your fingertips.
Services
Delicious dining options
Health & Wellness programs
24-Hour security; gated community with beautifully landscaped grounds
Fine dining
State-of-the-art stadium-style theatre with leather recliners
Scheduled transportation (Dr. appointments, bank, post office, shopping, etc.)
Licensed Nursing/24-hour healthcare services (assisted living only)
Weekly housekeeping & linen service
State-of-the-art fitness center/fitness programs
Men's and women's locker rooms for pool and fitness center
Socials and parties; happy hour
Library/media room with computers
Entertainment (events and activities)
Luxury billiards den with fireplace
Indoor park with waterfall
Physician's clinic
Lounge with fireplace
Walking area along lakefront that is walker- and wheelchair-friendly
Lake pavilions with fireplaces
Private boat ramp & fishing pier
Nurse call pendants
Safety pull cord in each bath
We also offer:
Respite care — day, week or month
Hospice care
Financial options for senior living
We're a pet-friendly community!
We'd love you to bring your furry friends into our family! Small dogs & cats are absolutely welcome when residents are able to provide them with the proper care and ensure that they receive current vaccinations. Ask us about additional requirements!
Veterans Benefits
Veterans who served during wartime and their spouses may be eligible to receive nearly $2,000 per month toward the cost of assisted living, in-home health care or other non-reimbursed medical care through the Aid and Attendance program. For more information, please contact your Veterans Regional Office online at www.va.gov, call 1-800-827-1000, or contact an accredited agent.
Tax Benefits
Costs related to senior living may be tax deductible for both the resident and the family caregiver if the Internal Revenue Service requirements are met. Visit http://www.irs.gov, and particularly http://www.irs.gov/pub/irs-pdf/p502.pdf for more information on this potential benefit.
Financial Flexibility
We understand that everyone has unique circumstances that help determine how they can best fund senior living for themselves or their loved ones. In the past, people have relied on the sale of a home or traditional savings to afford senior living. But today, a variety of financial options are available through a number of sources offering more flexibility and access to resources when it is most needed.
Learn more about assisted living in Hot Springs, AR, and how it can benefit you or your loved one.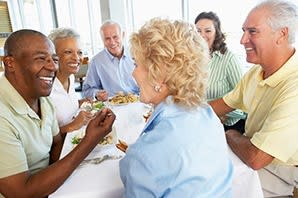 "We enjoy the billiards room, ping pong and the fitness room. We are very comfortable in our home at The Atrium."
- Laura J.