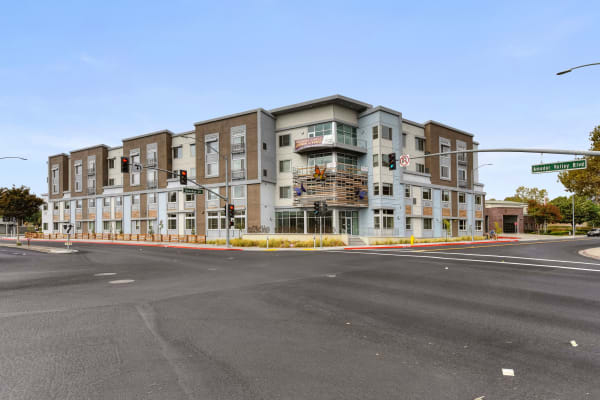 Easy, Safe, Modern Boutique Living - NOW ACCEPTING ADMISSIONS
Welcome to Elegance at Dublin 
A Modern Urban Senior Living Community in Dublin, California
With spectacular views of the Castro Valley Mountain Range and Donlon Point, Elegance at Dublin is a relaxed, upscale  assisted living, and memory care community ideally located in the urban heart of Dublin, near Pleasanton at the intersection of interstates 580 and 680.
Elegance at Dublin is close to Stoneridge Mall, Dublin Shopping Plaza, the Dublin-Pleasanton Bart Station, and the Dublin Senior Center - where residents have easy access to join programs and opportunities. The boutique community offers 25,000 square feet of indoor amenities, including a full-service restaurant, bistro and wine bar, fitness center, theatre, salon and spa, as well as outdoor patios and onsite parking. In-room amenities include spacious floor plan options and energy efficient Whirlpool® appliances.
Elegance of Dublin was designed with the larger community in mind and will support Dublin's robust public art scene with butterfly sculptures, designed by artist Matthew Placzek, on the south facing, most visible intersection of the community as well as butterfly artwork throughout the building.
Safety: With the current pandemic, we know safety is a top concern for families and we also firmly believe that congregate living environments can be a safe alternative to living isolated and alone at home during state quarantine mandates. Please read about our COVID Response here and reach out with any questions you may have about how we've kept residents safe with our expanded cleaning and training protocols and kept them connected to family with creative and innovation programs and technology.
Engagement: Our vibrant senior living community offers opportunities to keep the mind and body engaged all with the perfect mix of discreet supportive care and hospitality tailored to meet individual resident needs. We have a full calendar of social, cultural, and physical programs including educational learning, happy hours, live entertainment, and fitness-focused programs including access to all the programs offered right across the street at the Dublin Senior Center.
Care: At Elegance at Dublin, we provide discreet care so residents can continue to live a life of independence and socialization. Our range of services extends from traditional assisted living care, such as bathing, dressing, and medication management, to a specialized memory care program attending to the needs of those living with Alzheimer's or other memory impairment.
Technology: Residents live in a safe and attentive atmosphere complete with wifi access, 24-hour personal call system, and around-the-clock staffing. Residents stay connected to their families and the care staff through LifeLoop where residents love viewing and sharing photos and videos with their friends and family. You can take comfort in knowing help is always available at Elegance at Dublin.
Elegance at Dublin Photo Gallery